The old luggage shed of the Red Star Line shipping company is the entrance to the museum. There you'll find the reception desk, the museum shop and the museum café Upper Deck. In the shed, you can take the stairs or lift to the tower. On top, you have a splendid view of the city and the river Scheldt.
You can visit the museum shop, the museum café and the tower without a ticket. However, there may be temporary restrictions. Please consult our page Practical information.
Accessibility
foto: Frederik Beyens
The museum is fully accessible for people with reduced mobility. To prevent misuse, the toilets for persons with reduced mobility are protected by a code: '2000A'.
The Red Star Line Museum is a partner of the European Disability Card project. With this card, your companion can enter for free. More information: http://eudisabilitycard.be/.
Dogs are not allowed, except for guide dogs.
Backpacks, large bags and umbrellas are not allowed in the museum halls. You have to store them in the lockers in the basement. (You need a € 1 coin).
Strollers are allowed.
Upper Deck - a hospitable place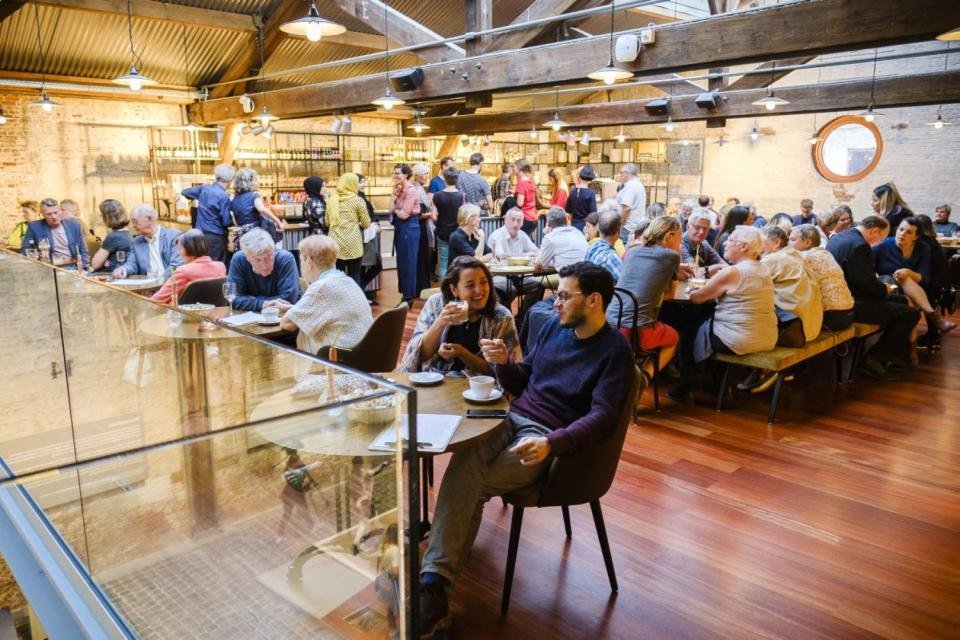 © Victoriano Moreno
Are you a visitor, staff or just casually passing by? Everybody's welcome.  
For the time being we are unable to serve drinks, but you can take a seat, relax or eat your own lunch.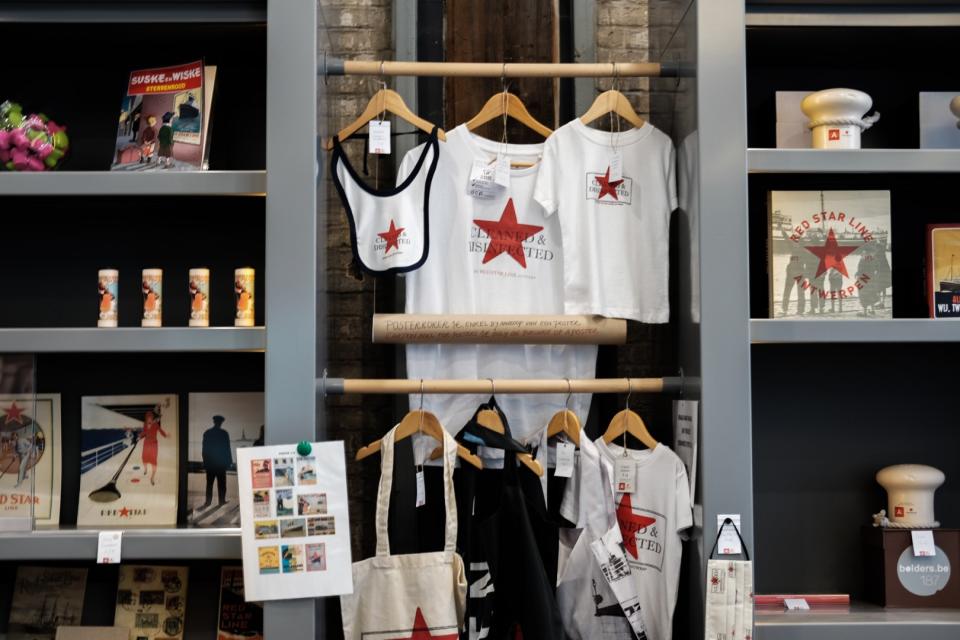 © Samuel Pinillos Garcia
Do you want the Red Star Line at home? The museum shop offers a wide range of irresistible items: vintage posters and postcards, pens and paper, books about the history of the Red Star Line and its passengers, souvenirs for young and old, and lovely items from the 'Cleaned and Disinfected by the Red Star Line' collection. The latest item in the series is a corona proof mouth mask.
Visitors' area
In the basement of the museum is the visitors' area with:
lockers and wardrobes for coats and bags;
toilets;
first aid kit;
a breastfeeding room and tables for baby care
Gallery texts
Gallery texts are available for people with a visual handicap. Send an email to rsl_balie@antwerpen.be at least 24 hours in advance.
You can view or download the gallery texts below.
House rules
The Red Star Line Museum is a smoke-free environment.
Eating and drinking is not allowed in the museum.
Turn off the sound of your mobile phone and other electronic devices.
Photography with flashlight is prohibited.
Selfie sticks are not allowed.
Always ask permission if you want to take professional photo and audiovisual recordings.